Knowledge Center
How to Hit the Right Notes with Keynote Speaker Announcements
Originally posted on Cision's blog: https://www.cision.com/us/2017/07/how-to-keynote-speaker-announcements/
Everyone has experienced a time at a party or gathering when that one song comes on that everyone loves. The DJ or host cranks up the volume as a seemingly static room becomes bursting with energy.
Event speakers can have that same effect on a conference. Attendees and exhibitors file into a meeting room and as they exit, suddenly everyone feels re-energized about their industry and ready to take on the world.
This renewed sense of purpose and drive is one of the many reasons companies choose to send employees to trade shows and conferences year in and year out. Event speakers are a beacon for events that amplify the overarching message and attract multifaceted trade show audiences. They inform, challenge and inspire, unfortunately, event speaker announcements are often less than inspirational.
Since these announcements are so common, it's easy to fall into the trap of treating them that way. Here are five tips to avoid the template trap when writing event speaker announcements:
1. Pump Up the Volume with an Exciting Headline
With workloads going up and lower resources, it's tempting to fall into the standard event speaking headline formula of "[Name] to Keynote at [Event]." While this is short and to the point, it's not necessarily going to inspire clicks.
Instead, try thinking about what makes the speaker notable. Audiences may not recognize the speaker by name, but they may be interested in "the author of…", "the CEO of…", "the inventor of…" etc. Using what a speaker is known for in the headline, rather than just their name, makes the announcement more appealing to a broader range of audiences.
This headline from SnoopWall, Inc.'s NAB announcement in April — SnoopWall CEO, a Breach Prevention Expert, to Keynote NAB Conference's Cybersecurity Pavilion — provides a great introduction into what makes the speaker notable and why audiences should care.
2. Include an Engaging Headshot
Anyone can include a headshot of the speaker in front of a white or colored background. To stand out, trying including a headshot that shows off your brand or gives insight into the speaker's personality. Action-oriented pictures are more appealing — so using a picture of the speaker giving a speech, for instance, could increase visibility and engagement.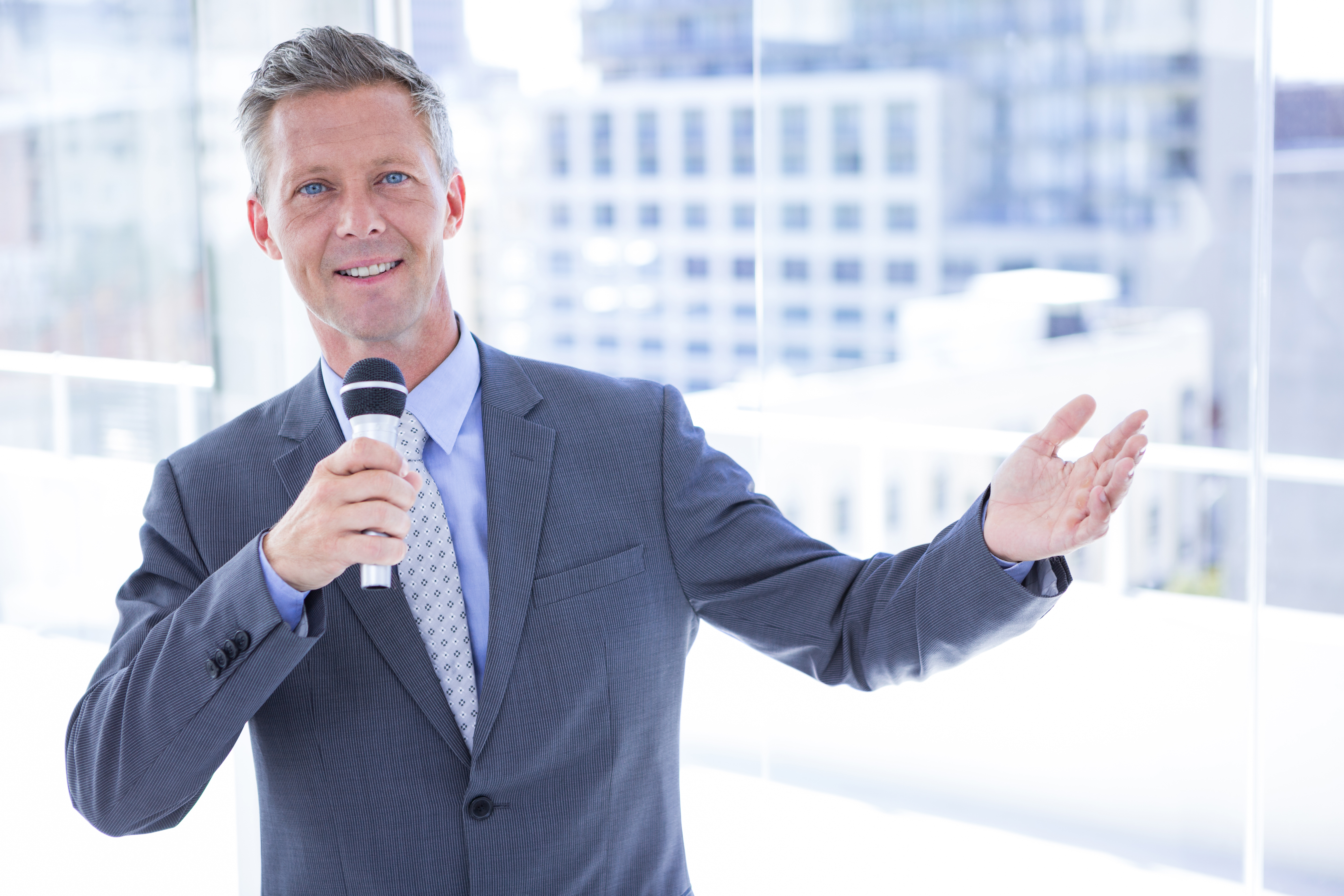 Another way to change it up from a normal headshot is to – as previously mentioned – highlight what makes the speaker notable. Take this event speaker announcement from Marbridge Foundation for example.
Instead of a plain headshot of Ron Suskind (who most people might not recognize by name), Marbridge Foundation included a combination photo of the movie poster based on Ron's book along with an image of Ron next to his book. This compilation image is engaging and illustrates in a succinct way why Ron is an authority in this industry.
3. Amplify the Speaker Content
Conferences are a magnet for industry professionals that are eager to learn about new trends and ways to improve their business. Take advantage of appealing to their inner groupie by teasing to what the keynote will focus on and any unique tidbits attendees will learn.
If you're an event organizer, chances are you have many speakers all providing different perspectives on an overarching theme. While you could send an announcement for each speaker, you could also send one announcement that introduces all the speakers, providing a more comprehensive view of the event.
For example, this announcement from UBM's Licensing Expo, Licensing University™ 2017 To Tackle Essential Topics For Success In Today's Ever-Changing Marketplace, introduces the keynote speaker and then goes into a bulleted list with summaries of other hot topic sessions at the event. This format provides a lot of information which can help readers decide if the event is a good fit for their company.
4. Inspire Action
Now that you have a captivated audience, it's time to capitalize on that interest and get them to take action. Every release should be written with a specific goal in mind and that goal is the call to action (CTA).
Usually, the goal of speaker announcements is to drum up excitement and get people to register for the show or visit an exhibitor booth. For example, this release from Portada, CMO of Pepsi Latin America to Present Keynote at 9th Annual PortadaLat Conference, clearly states in the first paragraph to register for PortadaLat Conference to get the early bird rate. It also reiterates this message in the middle and at the end of the release, making it easy for users to take the action at any point while reading.
Encouraging registration or booth visits doesn't always have to be the CTA, however. Some event organizers and companies use speaker announcements to position themselves as thought leaders and drive traffic to their website.
Every organization is different. Think about your organization's main goal for the event and beyond and then craft a specific and clear call to action to meet it.
5. Promote Even After the Mic Drop
The conference is over and the keynotes were really well received, but the excitement doesn't need to end there. If a speech was "drop the mic" worthy, chances are there is an outside audience that would love that content as well.
Promoting a speech after an event encourages social sharing and it is a great way to keep the conference or company top-of-mind. Promoting after the fact is not only smart, it's necessary to avoid missing out on a potential plethora of engagement for your organization.
TED and their speakers promote speeches after the fact often. Take the release, Julieanne O'Connor, Award-Winning Author, Actor & Strategist Speaks up about Living a Life Fulfilled in her new TEDxYakima Talk "ALIVE AND COUNTING", for example.
Julieanne O'Connor gave new life to her speech two months later by promoting its availability on YouTube. She utilized her speech post-conference to expose it to new audiences and further position herself as a thought leader in her space.
Pro-tip: Great content comes out of conference speeches, and great content is inherently sharable. Ensure you're not missing out on valuable content marketing opportunities by blogging about conferences and tweeting out the most memorable moments. Or, combine the best of both worlds and create a blog post that contains tweets with the most memorable moments. For speakers wanting to promote your speech, make sure you're not violating any contract issues with the event organizer before proceeding.
Keynote speeches are one of the biggest highlights of trade shows and conferences; don't diminish their impact with a templated announcement. Follow these tips for your next event speaker announcement to ensure audiences turn the volume up – not off.